Dispatch Steel Drum
Our steel drums are carefully designed in different sizes and dimensions as per the clients' requirements and specifications. Our team of engineers uses superior quality raw material to manufacture these durable and long lasting dispatch steel drums. These drums are used as packaging material for heavy power cables and are also used in power transmission by different companies.
Structural steel flange members
Large diameter drum to accommodate cable bend radius
Wood lagging opening for cable protection
Drum with added reinforcements
Specified lifting points, or rim lifting, lifting beams designed and manufactured to suit.
Inner faces of flanges lined with steel or stainless steel sheet for complete surface coverage.
Reel ideal for HV cabling
Folded steel flange skin
Lighter weight yet sturdy flange construction
Semi-smooth inner flange
Structural steel flange reinforced reel
High strength and durable reel
Flat bar or I-Beam flange perimeter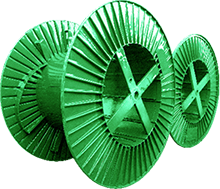 Process Steel Drum
We design and develop a wide range of process steel drums that are durable in quality and long lasting. Our team of engineers has made these products from superior quality steel that is tried and tested at our quality testing unit for its features. These process steel drums are used as packaging material for heavy power cables.
Leading provider of a complete range of Steel Reel under one roof
Offering custom made products to a range of industries
Seamless product construction that is built to last
Products assembly through semi-automatic machinery
Static and dynamic balancing to ensure product longevity
Light weight yet robust finish
Ideal for usage in cabling machinery and extrusion machinery
In-house design and assembly